Aim of the Department:
Prisons serve the public by keeping in safe custody those committed by the courts and treating them with humanity and helping them to lead a useful life in society as a law abiding citizen after their release from the Prison. The theory of Reformation and Rehabilitation is followed in the Prisons of this State.
Brief of the Department:
The Director General of Prisons who is the Head of Department is an I.P.S. Officer in the rank of Director General of Police. He is assisted by one Deputy Inspector General of Prisons at Headquarters and 4 Deputy Inspector General of Prisons at the Range and one Chief Probation Superintendent in the Probation Branch. There are 10 Superintendents and two lady Superintendent for two women Prisons. Each Central Prison exercises control over Sub Jails situated in Districts under its jurisdiction. The Sub Jail is administered by an Assistant Jailor who is designated as Superintendent of Sub Jail.
The Administration of prisons is accorded utmost priority by Government. Concerted efforts are taken to improve the all round welfare measures of prisoners and basic infrastructure facilities. While strengthening the safety and security of Prisons, administrative changes are being made in Prisons. The establishment of Prisoners' Adalat in the Prisons of this State is the first of its kind in the country.
RTI Act :Manual(PDF) Directory (Chapter 10) (PDF)
Category of Prisons :
There are Eight Central Prisons for confining causal offenders one Central Prison for habitual offenders and three Special Prisons for Women, one Borstal School for Youth Offenders (Aged 18 to 25 years), Three Open Air Jails, Nine District Jails, Two Special Sub Jail for Men, 87 Sub Jails for Men, Three Special Sub Jail for Women and 8 Sub Jails for Women, 11 Borstal Schools for pre convicted adolescent offenders. The capacity of Central Prison ranges from 723 to 2517, Special Sub Jails from 84 to 224, District Jails from 200 to 405, Sub Jails from 18 to 143, Special Prison for Women 469 to 600, Open Air Jail is 150, farm jail is 10 and that of Borstal School is 40. (See also : Historical Perspective)
Organisation Set-up :
Additional Director General of Prisons
Deputy Inspector General of Prisons (Range)
Deputy Inspector General of Prisons (Headquarters)
Chief Probation Superintendent
Office of the Additional Director General of Prisons
Prisons
Jurisdiction of Prisons:
The location and the District Jurisdiction of Central Prisons are as follows:
Location

District Jurisdiction

Central Prison Puzhal - I
All Convict Prisoners of Chennai, Thiruvallur, Kancheepuram
Central Prison, Puzhal - II
All Remand Prisoners of Chennai, Thiruvallur, Kancheepuram
Special Prison for Women, Puzhal
All Women Prisoners of Chennai Thiruvallur, Kancheepuram
Central Prison, Vellore
Dharmapurai, Vellore,Thiruvannamalai and Krishnagiri
Special Prison for Women, Vellore
Women Prisoners of Salem, Namakkal, Dharmapuri,
Coimbatore, Erode, Nilgiris, Cuddalore, Villupuram, Triuvannamalai, Vellore,
Thanjavur, Tiruvarur, Nagapattinam.
Central Prison, Cuddalore
Villupuram, Cuddalore.
Central Prison, Salem
All Habitual and Habitual Prison Offenders of this State.
Central Prison, Trichy
Trichy , Karur, Perambalur, Pudukkottai, Thanjavur, Nagai and Thiruvarur.
Special Prison for Women, Trichy
Trichy, Perambalur, Karur, Pudukkottai, Madurai, Ramnad, Virudhunagar,
Sivagangai, Dindugal, Theni, Tirunelveli, Thoothukudi and Kanyakumari.
Central Prison, Madurai
Madurai , Ramnad, Sivagangai, Dindigul, Theni and Virudhunagar.
Central Prison, Palayamcottai
Tirunelveli, Kaniyakumari and Thoothukudi.
Central Prison, Coimbatore

Coimbatore, The Nilgiris and Erode, Salem, and Namakkal

Borstal School, Pudukkottai
All young offender (18 to 25 Years) of the State.
District Jail Dindigul
District Jail Ramanathapuram
District Jail Virudhunagar
District Jail Nagercoil
District Jail Srivaikundam
District Jail Pudukkottai
All male remand and under trial prisons and male prisoners sentenced to less than three months committed by the Courts in the District in which the District Jail is situated
Probation Branch :
The branch which is headed by Chief Probation Superintendent, is responsible for the implementation of the Probation of Offenders' Act, 1958 and also for rehabilitation of offenders. The Sanctioned strength of Regional Probation Officers are 12 and Probation Officers are 96 in this Branch. They make enquiries regarding the behaviour pattern of the offenders and the environmental conditions in which they live and submit report to the courts when called for and also supervise the probationers ( Persons placed under the supervision of the Probation Officers by the Court) apart from supervising the behaviour of the offenders released prematurely on bond and inmates who are discharged from the Borstal School. They also arrange financial assistance through Nationalized Banks and N.G.Os to the discharged prisoners and Probationers for their rehabilitation. This State was the first to implement Probation under Madras Probation of offenders Act,1936.
Establishment:
Establishment Staff :
There are 4862 Posts of various categories in the Prison department. i.e executive, ministerial, correctional, medical, technical and teachers.

In the Executive side, Grade II Warders post is filled up by the candidates selected by the Tamil Nadu Uniformed Services Recruitment Board. The post of Assistant Jailor and Jailor is filled up by promotion and by Direct Recruitment through Tamil Nadu Public Service Commission. The other posts are filled by promotion. Tecnical Posts are filled up by Direct Recruitment through the employment exchanges. Promotions to the higher categories are made in accordance with the service rules. The Medical staff such as Assistant Surgean, Pharmacist, Staff Nurse etc, are filled up Deputation from the Medical Department.
Staff Training :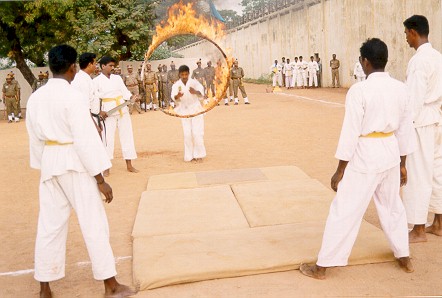 There is a Warders Training Centre at Vellore which conducts 6 months basic training for newly recruited Grade II Warders. This Institute also imparts in-service training to Grade I & II Warders. Training includes handling of Modern Weapons, drill and management of Prisons with emphasis on Human Rights. The in-service training includes training in Karate & Ninja, Gr.II Warders are also deputed for Police training such as Commando, Un-armed combat, Bomb disposal, PSO Temporary Warders training centre at Trichy and Coimbatore were started to the train the newly recruited warders.

There is a Regional Institute of Correctional Administration at Vellore for imparting training to officers. This institute is jointly managed by four Southern States viz. Tamil Nadu, Andhra Pradesh, Karnataka & Kerala. The object of this institute is to train officers in the correctional service so as to rehabilitate, re-socialize and reintegrate the offenders in the community effectively.
Welfare measures :
The Excutive staff are provided facilities like Rent free Quarters, Risk allowance, Feeding chargers Subsidised ration, Night meals and tea for warders on duty, Ex-gratia payment for death and accidents while and duty Extra time remuneration for untoward incident on duty and Group Insurance.
Medals :
The following Medals are awarded to the Executive Staff:
Tamil Nadu Chief Ministers Prison Service Medal for meritorious and gallantry and good service.
The Presidents' correctional service Medal for Meritorious service, Distinguished service and gallantry
Modernisation Drive :
Computerization :
The department has developed its own Software through National Informatics Centre (NIC) for various routine activities in Prison and staff has been trained for using the Software.
Modernisation :
The Prisons have been modernised taking into account of the Security, health and welfare needs of the prison and prisoners. 
Latest Development of Public Importance :
Model Prison complex- Puzhal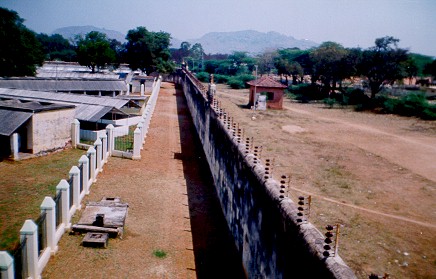 The new Prison complex at Puzhal was inaugurated by the Hon'ble Chief Minister on 26.11.2006. The prison complex consists of three prisons viz. Central Prison I Puzhal with a capacity of 1250, for accommodating convict prisoners, Central Prison II Puzhal with a capacity of 1250, for accommodating remand prisoners and Special Prison for Women Puzhal with a capacity of 500 for accommodating women prisoners. The prison complex is situated in a sprawling area of about 212 acres. The construction works were carried out by the Tamil Nadu Police Housing Corporation Ltd.
Video Conferencing System
Using video conferencing facility, remand of Prisoners is being extended. This facility was commissioned in 78 court complexes covering about 273 courts and 16 locations in all the Central Prisons and Special Prison for Women. This not only helps preventing escape of prisoners and other untoward incidents during transit to courts but also reduces the expenditure on Police escort and vehicles. It was inaugurated on 01.07.2004. Using this facility a total of 802612 prisoners have been produced before various courts for extension of their remand period between 1.7.2004 and 31.12.2013.