Reformation of Prisoners :
The Administration of prisons is accorded utmost priority by Government. Concerted efforts are taken to improve the all round welfare measures of prisoners and basic infrastructure facilities. While strengthening the safety and security of Prisons, administrative changes are being made in Prisons. The establishment of Prisoners' Adalat in the Prisons of this State is the first of its kind in the country. The principles of correctional administration are imbibed by Prison Department so as to provide for reformation and rehabilitation in the system.
Yoga and Meditation :
In order to transform the lives of Prisoners Yoga and Meditation classes and Counselling are conducted regularly by various NGO's in all the Prisons. Various NGO's involved are as follows :
Isha Foundation Sahaja Sthithiyoga programme, Coimbatore
Vipassana Meditation Maavuthan Seva Samithi, Vepery, Chennai
Magarishi Yoga Centre, Majakuppam , Cuddalore
Project Officer, Deaddiction Centre, Cuddalore
Praja Pitha Bramma Kumarigal Iswariya Visva Vidhyala, Cuddalore
Viyaktu Vikas Kendra , Pollachi
Brahma Kumaris, Chennai
Viyakthi Vikas Kendra, Chennai
Sky Trust Manavalarkalai Mandram, Trichy
Art of Living Yoga Meditation, Chennai
Vikthivikar Kendra India Jeeva Nagar, Bangalore.
Counselling :
Banyan, 6th Main Road, Mogapair Eri Scheme Mogapair West, Chennai.37.
Guild of Service (Central) Family Counselling Centre, No.18,(Old No.28) Casa Major Road, Egmore, Chennai.8.




Education :
The Prisoners are provided elementary education through qualified Secondary Grade Teachers in the Prison School.
Non-formal adult education is also imparted to the illiterate Prisoners so that they can read and write.
Higher education is imparted by distance education programme conducted by various Universities such as Manonmaniam Sundaranar University, Indira Gandhi National Open University (IGNOU), Madras, Madurai Kamaraj, Bharathiar and Bharathidasan Universities.
Certified computer training course is also imparted to the Prisoners by N.G.O's.
Library :
In every prison there is one library with books of moral & educative value for the use of Prisoners. Books are also borrowed from the District library on loan basis.
A prisoner may also receive books during Interview or by post subject to censorship and they may keep 3 books at a time.
Newspaper and Magazine :
Tamil and English news papers and magazines are supplied to inculcate reading habit among the prisoners. All news papers and Magazine are subject to censorship.
All prisoners are permitted to purchase at their own cost any of the newspaper or magazine of their choice, subject to certain restrictions imposed from time to time by the Government.
Human Rights in Prison :
The Human Rights of prisoners are taken care of by providing better living conditions with sufficient accommodation, ventilation, food facilities, potable drinking water, better diet, medical and sanitation facilities interview and communication facilities, entertainment , free legal aid etc.
The staff also provided sufficient training in Human Rights so as to alter their attitude towards the Prisoners.
Types of Sentence :
Simple Imprisonment:
Labouring is not compulsory on sentence
Rigorous Imprisonment:
Labouring is compulsory on sentence.
Life Imprisonment:
Rigorous Imprisonment to his life time.
Punishments for Prison offence:
The prisoner who commits prison offences, enlisted in the Prison rules will be given the prescribed Prison punishment. The Superintendent may impose minor or major punishment as classified in Prison rules including prosecution depending upon the gravity of the offence.
Training to Prisoners :
Industries :
Prisoners are given training in various industries such as weaving, textiles, blacksmithy, boot making , soap making, spiral binding, lamination, book binding, rope, phenyle, sealing wax, tag and tape making, twisted thread and host of others. Wages paid for the work at the rate of Rs.60/- for skilled, Rs. 50/- for Unskilled and Rs. 45 for semi skilled prisoners.
Training in simple trades :
The object of vocational training to the Prisoners is for their reformation and rehabilitation and with this object only simple trades like plumbing, simple electrical wiring, painting including sign board writing, brick making are conducted and prisoners are given certificates by SCVT to enable them to seek employment after release.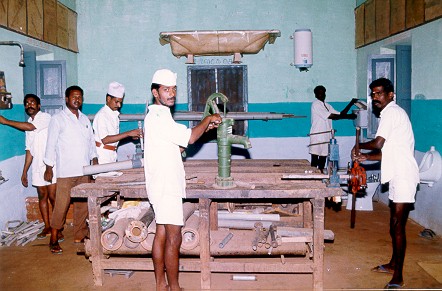 Vocational Training :
Apart from Industrial Training, the prisoners are given training in the following simple trades also by the Government as well as N.G.O.s for their ultimate rehabilitation :
Screen Printing
Simple chemicals
Food processing
Plastic Flower making
Agar Bathi making
The Non-Governmental organizations are running the following industries in prisons.
| | |
| --- | --- |
| Industry | Prison |
| Coir production unit | Central Prison,Cuddalore |
| Hollow Block Brick-making unit | Central Prison,Trichy |
| Lamination of Identity cards | Special Prison for Women , Vellore |